On Sunday, Tweed Valley Sailing Club conducted its 5th race of the Summer Pointscore Series with strong winds reaching 26 knots at times on the Tweed River.
14 boats, sailed by 25 crew, battled the windy weather with many giving up and retiring early. Only 6 boats completed the course.
It was exciting sailing for the survivors, with a strong flood tide against the wind, creating large waves in the river which enabled boats to surf and gain speed.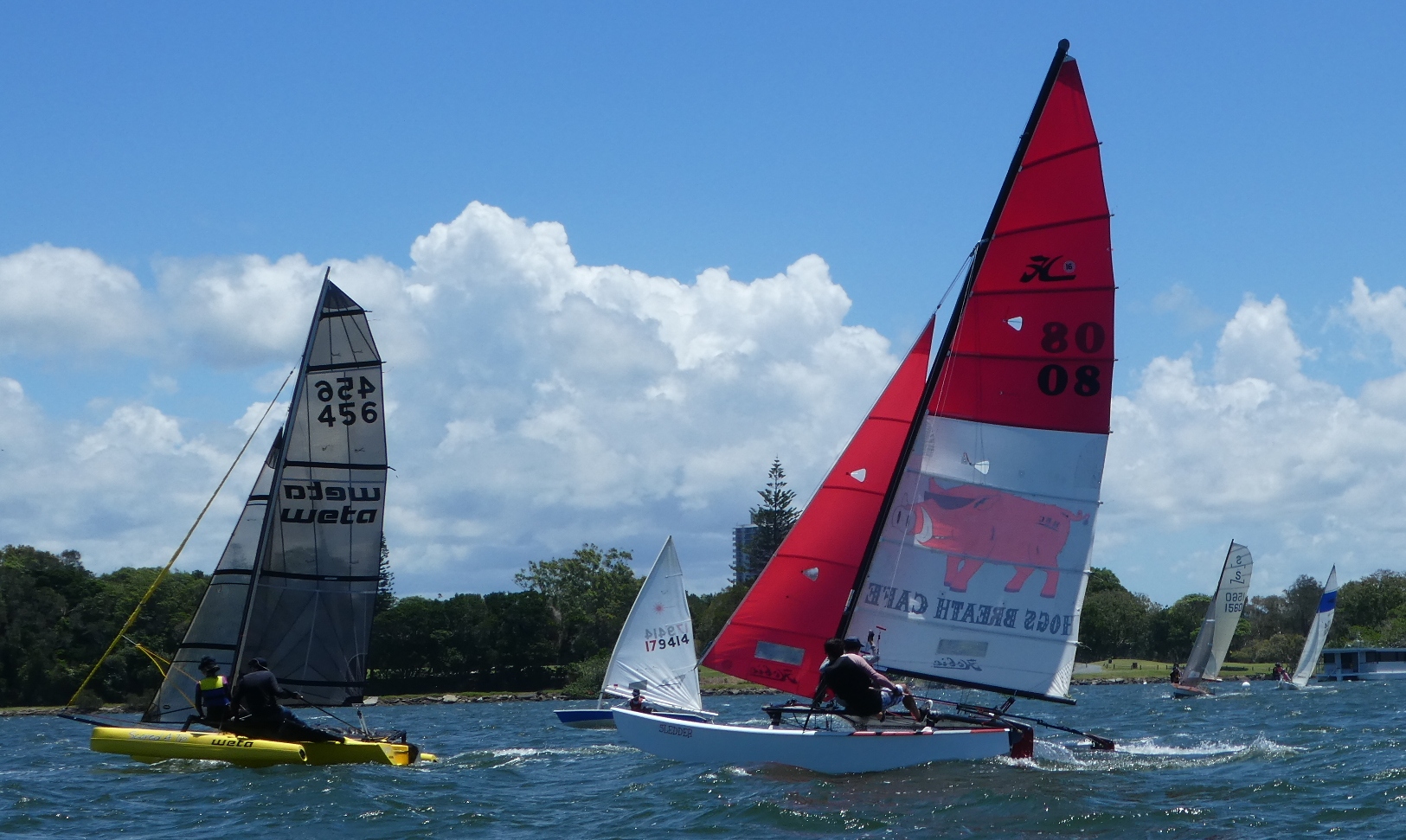 1st Finisher, Weta "Scored a Tri" (John & Saffron Cook), completing the 10km course in record time of 70 minutes. John and Saffron were very happy with their afternoon, winning their first line honours result this season, edging out perennial winner Dave Chester & crew Kynan Luescher with Daves Hobie 16, who lead the fleet by 3 minutes after the first lap but was forced to retire following a capsize early into the second lap.
Line Honours in the mono hulls went to NS14 Tornado, (Bill Fenelon & Taj Krasna) beating second placed Laser "Siesta" (Gary McCrohan) by 2 minutes and third placed Laser "Bluey" (Kate Yeomans) only 9 seconds behind.
The two big events this Sunday were the 3rd heat of the North Coast NS14 class Championship series and the Tweed River Laser Class Championship.
3 boats started in the NS14's with only one completing the course.
30 years old and built on the Northern Rivers, NS14 Tornado was skilfully sailed and avoided damage to complete the difficult course and take the bullet. Tornado show exceptional boat speed on the fast reaching legs and lead for most of the race. New sailors, Andrew Jaggers and Jessie Normans sailed NS14 "Blue Tack", but withdrew after numerous capsizes, while Tasar "Hippocampus" (Mike & Imogen Mansted) was also forced to retire early with a broken mast while actually leading the fleet. It was a disappointing result for Mike & Imogen as this would have been their first race win.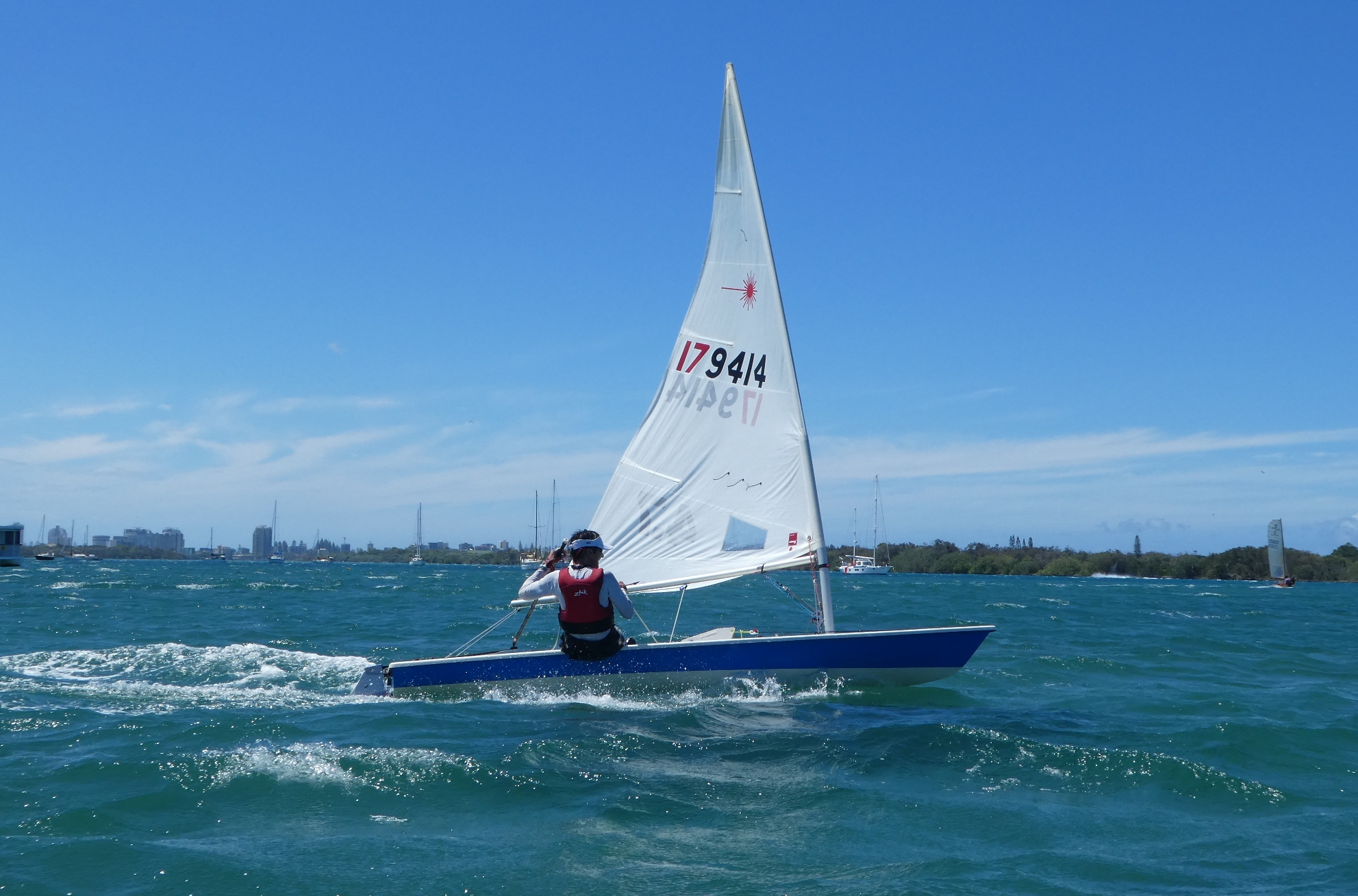 3 single handed Lasers competed in heat 3 of their Class Championship, with only two finishing. 1st placed Laser, "Siesta", had a very close race with "Bluey", with Gary finishing only 9 seconds ahead of second placed Kate Yeomans. Kate lead for the first 2 laps & showed incredible courage to continue racing despite the strong wind and multiple capsizes.
Racing in the Clubs Summer Pointscore series included 3 Corsairs, 1 Impulse and 1 Access 303. First to finish in this group was "Swell Lady" (Monique Smith, Deborah Flannery & Craig Foley) .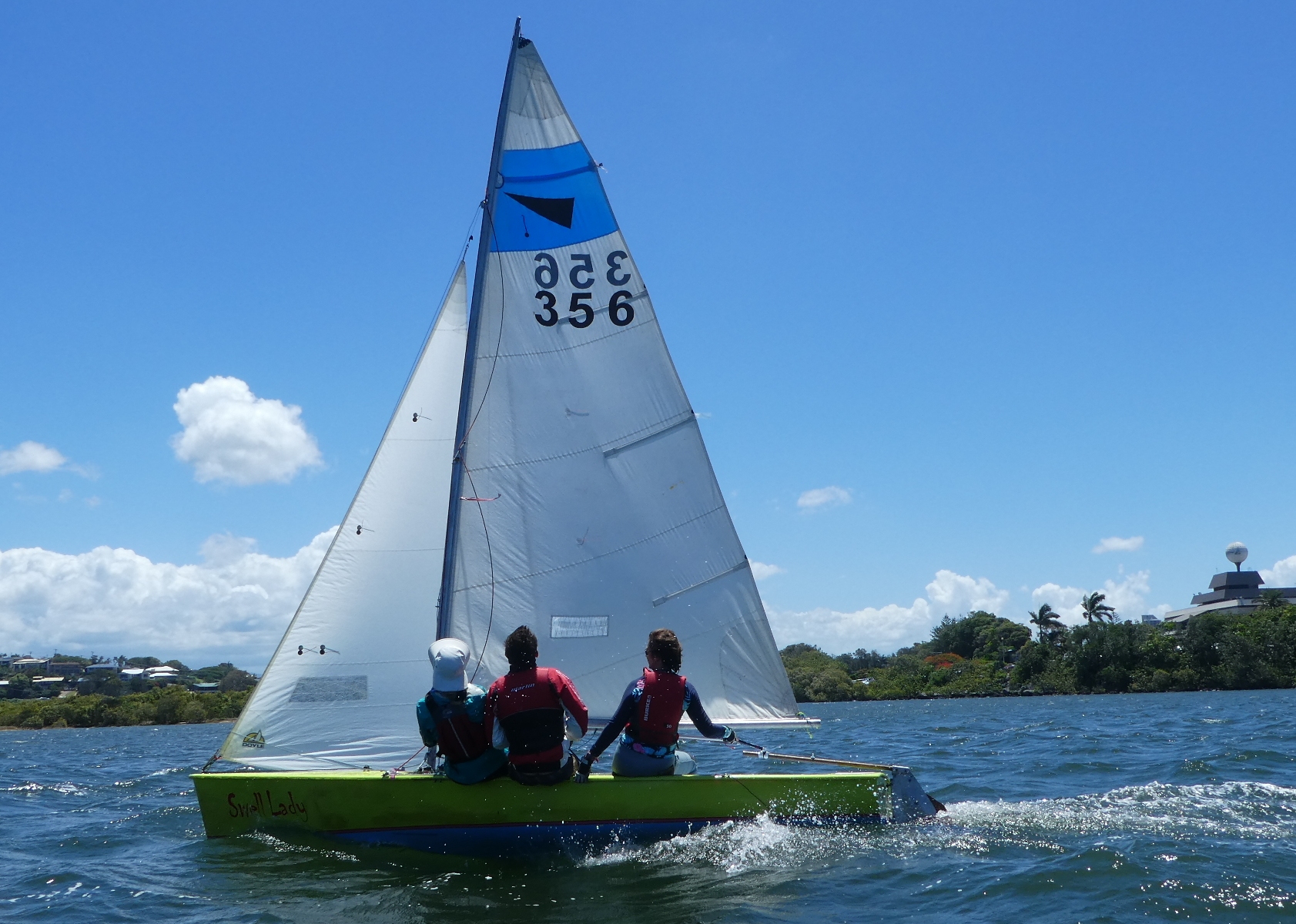 It was a great day out for Monique and her crew, and one of their strongest performances, as they battled & survived the winds and beat second place Corsair "Peggy" (Josh Ferguson, Tim Molloy & Grant Banning) by 8 minutes.
This was the last race day of the year and the club will now take a break for Christmas. Next race at the Tweed Valley Sailing Club will be Heat 3 of the Northern Rivers Corsair Class Championship, conducted on the 14th of January 2018 Race Briefing will be at 12:00 NSW Time and Race Start will be at 1pm.
The sailing club is in need of volunteers to drive our rescue boat. It's a fun afternoon on the river and everything you need is supplied. Please contact Club Commodore Bill Fenelon 0411 123 405 if you would like to try out. Boating licence is required.
Likewise, if you'd like to crew or learn to sail, then please get in touch.