Sunday morning began with solid rain and breeze, causing some newer sailors to question if sailing would still be on. They will learn. However, by the time our Juniors had their morning session, the rain had cleared, leaving a complete glass off on the river – no wind!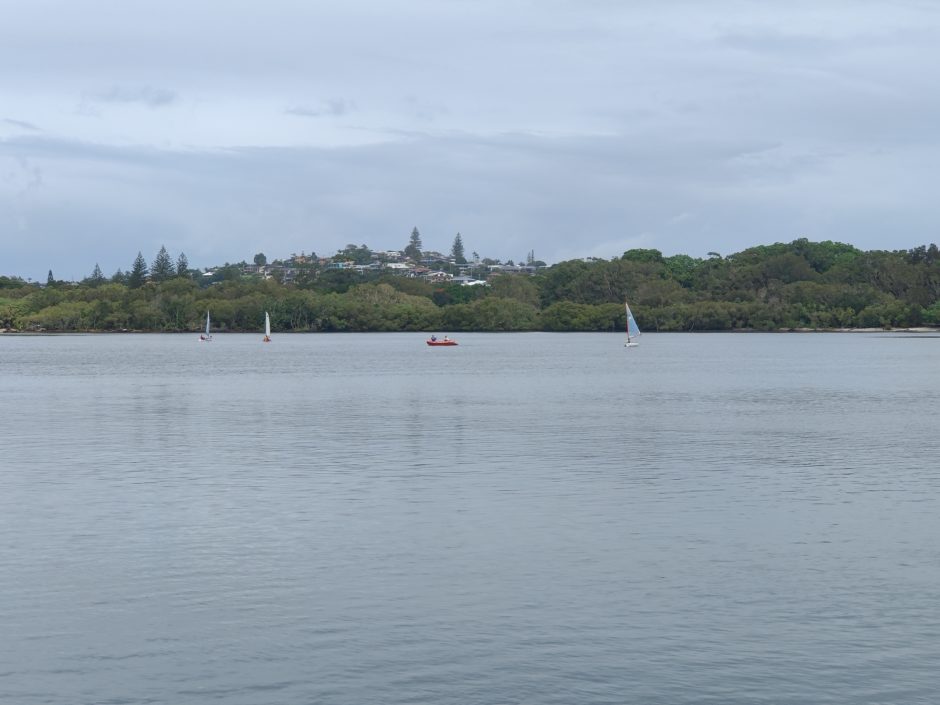 As such, the first race in the afternoon was scheduled for one lap, in case the breeze never filled in. By race start though, a steady 10- 12 knot ESE breeze was flowing over the river, giving us the opportunity for two races.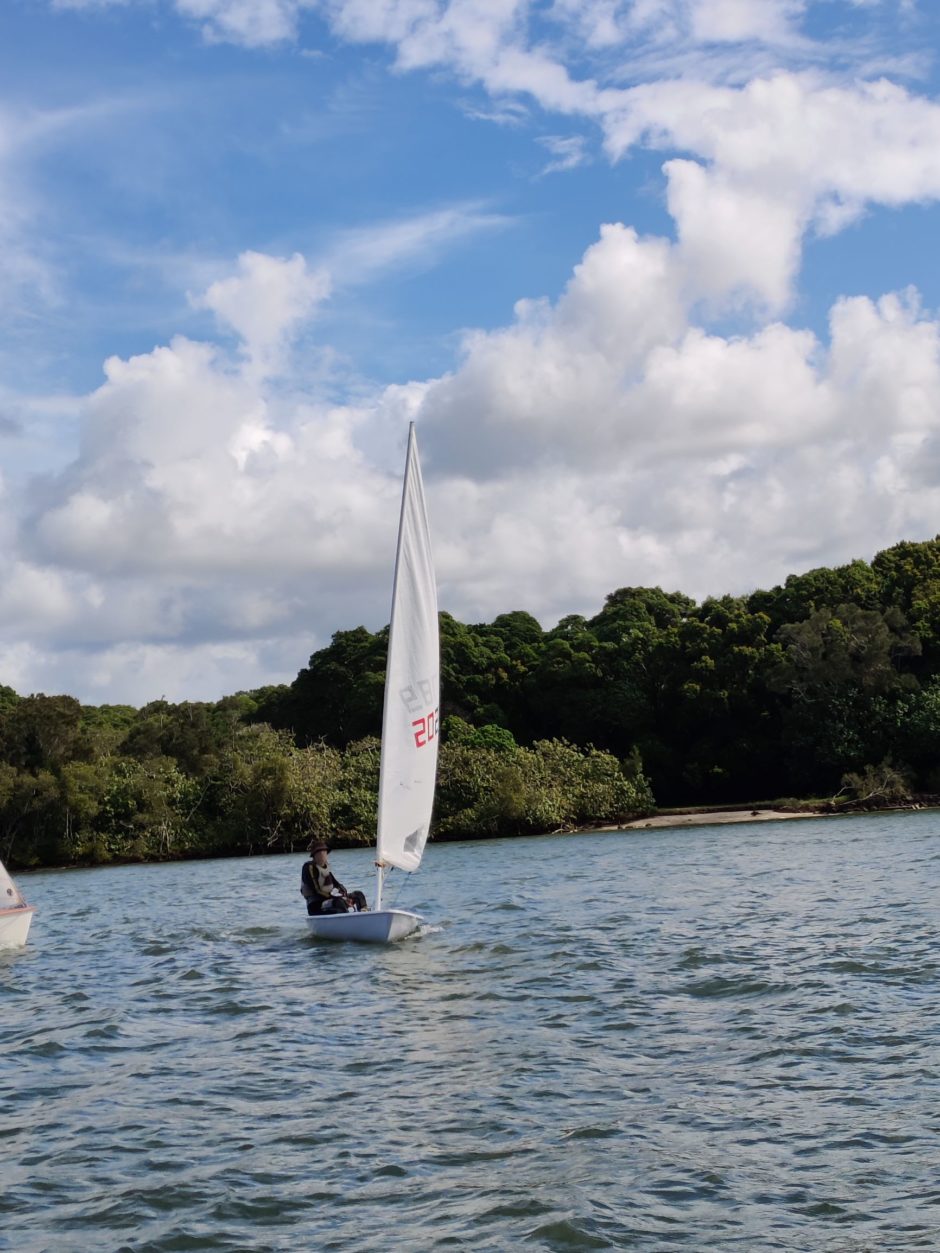 Sixteen boats competed, with five Corsairs and seven Lasers. (Results are here) The fleet included several new sailing crew and new skippers. Two of which have written about their experiences below: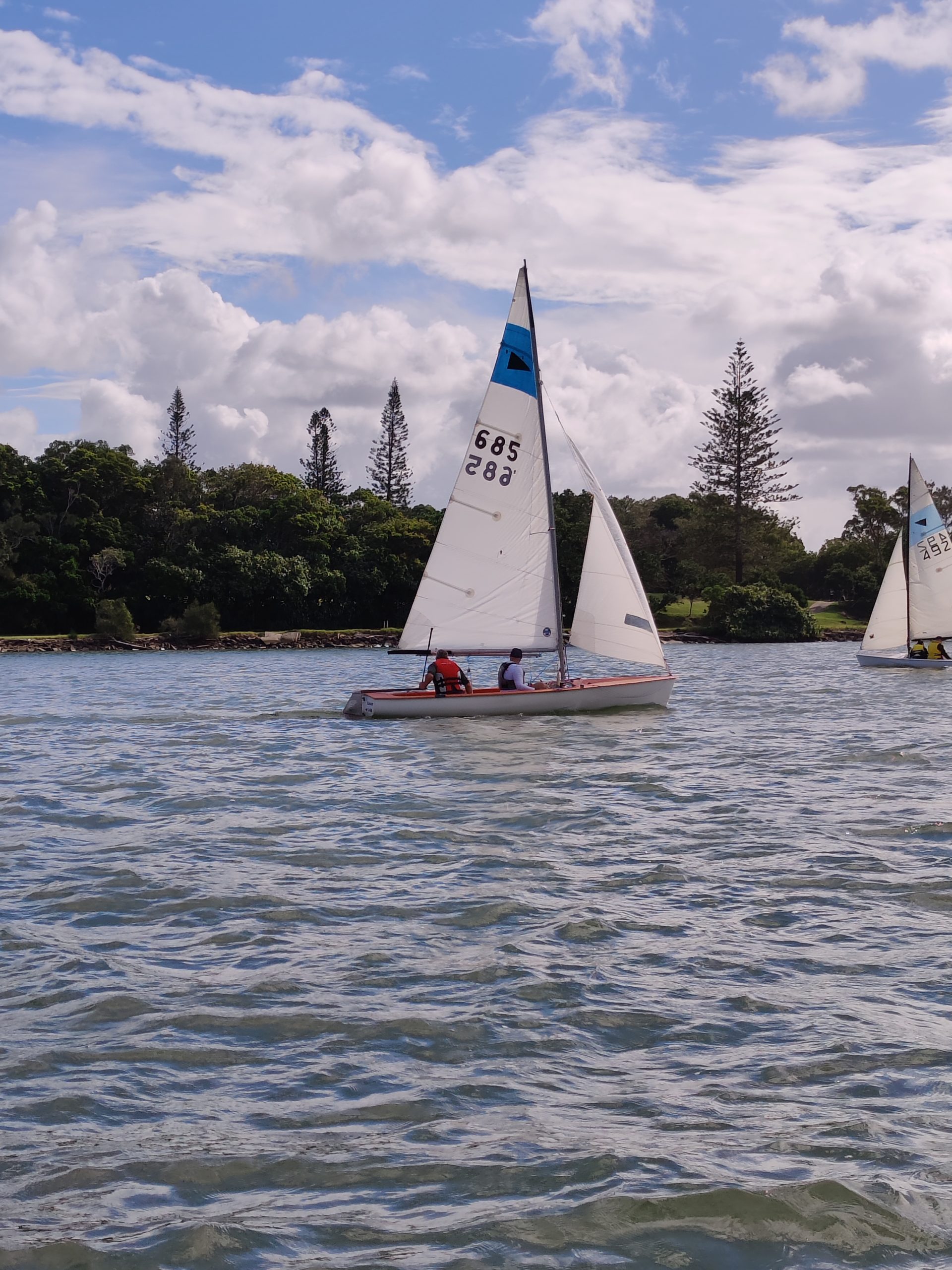 First up is Adam who raced his NS14 with his son, Zach. Adam has some sailing experience but has never raced before. They scored first in the second race on Handicap!
NS14 1682, Adam & Zack Andrewartha
Sunday morning started out with quite strong winds, but by mid-morning the breeze seemed to have dropped right out. By the time we got down to the river and rigged up, the breeze had kicked in again, it stayed pretty consistent for the duration of racing which was great. At the briefing it was explained that the first race was one lap of the course and it would be decided if the second race would be one or two laps depending on how fast the fleet could get around.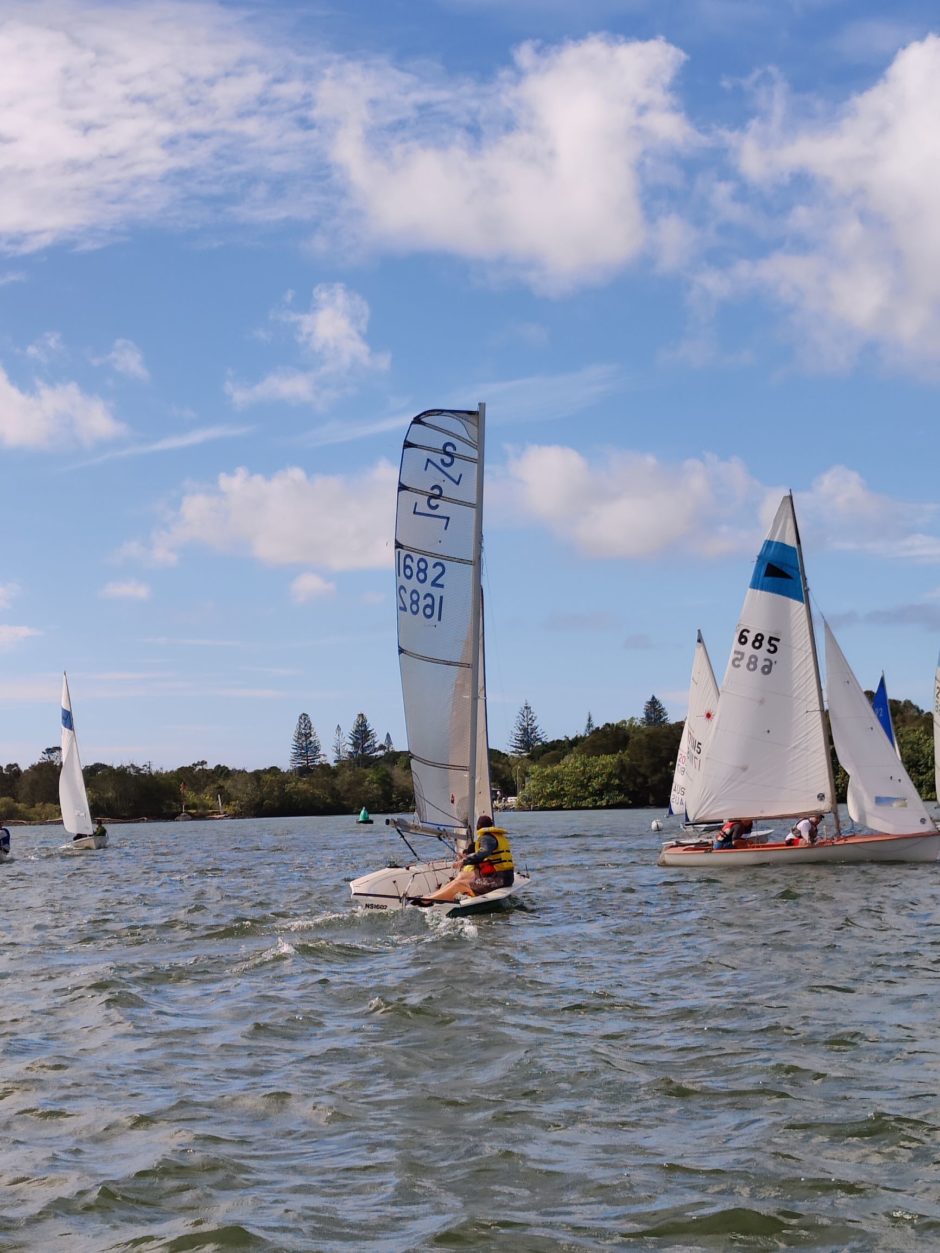 The first race kept the fleet fairly close together. Seemed a little too close together heading toward the first wing mark, as our NS felt a little helmed in by a group of Corsairs, (mainly due to us being new to racing and not used to sailing in such close quarters) but all rounded the buoy in an organised fashion. We then looked for some less congested water so we could just concentrate on our sailing and getting the most out of our boat. (I was given some great advice by the driver of the safety boat two weeks prior, thank you). We cut a course through the moored yachts, and managed to keep the next buoy in our sights the whole time. I think this worked well as we made some ground on a couple of boats on this leg, another small run out to a second wing mark and a dash for the finish line. A quick fun race, that allowed for two laps on the second race. Great course that kept it interesting with plenty of marks to round and a few jibes to keep us honest.
The second race seemed to split the fleet into two distinct groups, due to the longer format. The breeze maintained a fairly constant strength although slightly more tidal run in the main channel had us trying to avoid that area. I was really pleased with how Zack and I worked together as a team. (This being our first race together, he is certainly building his confidence and showing how comfortable he is in the NS. Even when the boat heeled right over with little warning it doesn't seem to faze him, he just kept doing his thing managing the jib.) We had a reasonable run on this race keeping up with the front pack and finishing in a respectable position, this is great from our perspective as we can learn by watching the faster boats/skippers in front of us. We learnt a lot and now have new things we can work on for next time to try and improve our placing.
Our second contribution is from Monique, who crewed in her first ever race with John and Rudi on Capers.
Our First Sailing Race!
Rudi and I arrived in anticipation on Sunday morning and, after saying hello to a few friendly faces, we attempted to rig up Capers – our Corsair for the day. This took a fair bit of concentration and input from the rest of the club, but eventually we were ready to set sail in our first ever race.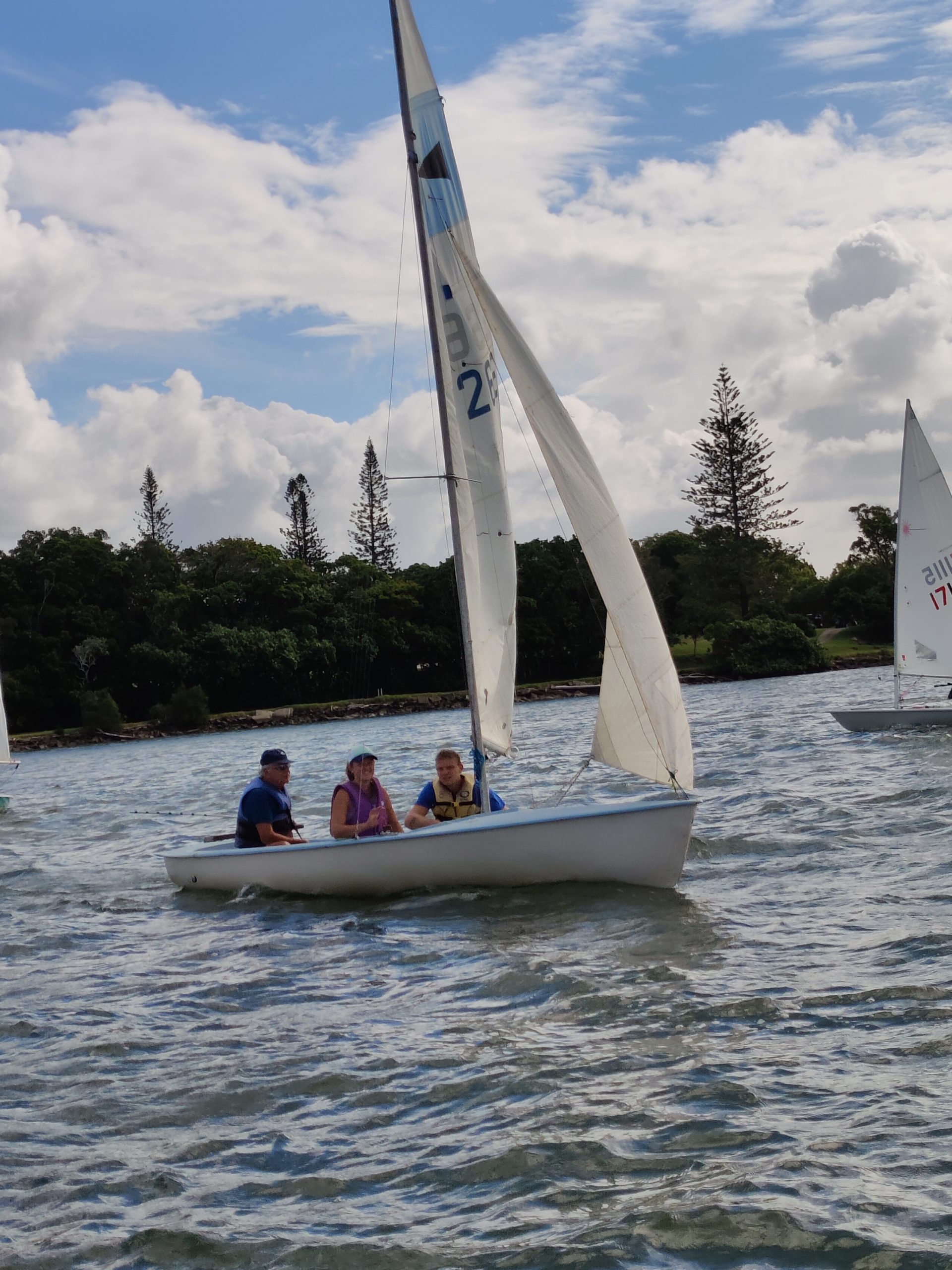 Wow, it was fantastic to see everyone's competitive spirit come out as the boats paced back and fourth counting down to the starting hooter. Thank goodness John was skippering, because I couldn't remember a word of the course that Craig had mapped out for us in the Briefing. Alas, we were off around the Green channel marker then down to the red buoy. The excitement had really start to set in!
Watching Kate and Mon hanging out of their Lasers parallel to the water was so inspiring – I'll definitely be joining the next "She Sails" Course. John was brilliant – using his knowledge of the river tides and current to maximise our speed, which ultimately lead us to be the first Corsair to cross the finish line in the first race.
It was amazing to see so many boats participating. Chirps of encouragement from the other boats, great displays of sportsmanship in giving buoy room and navigating around near collisions. All in all, an awesome introduction to Dinghy Sailing!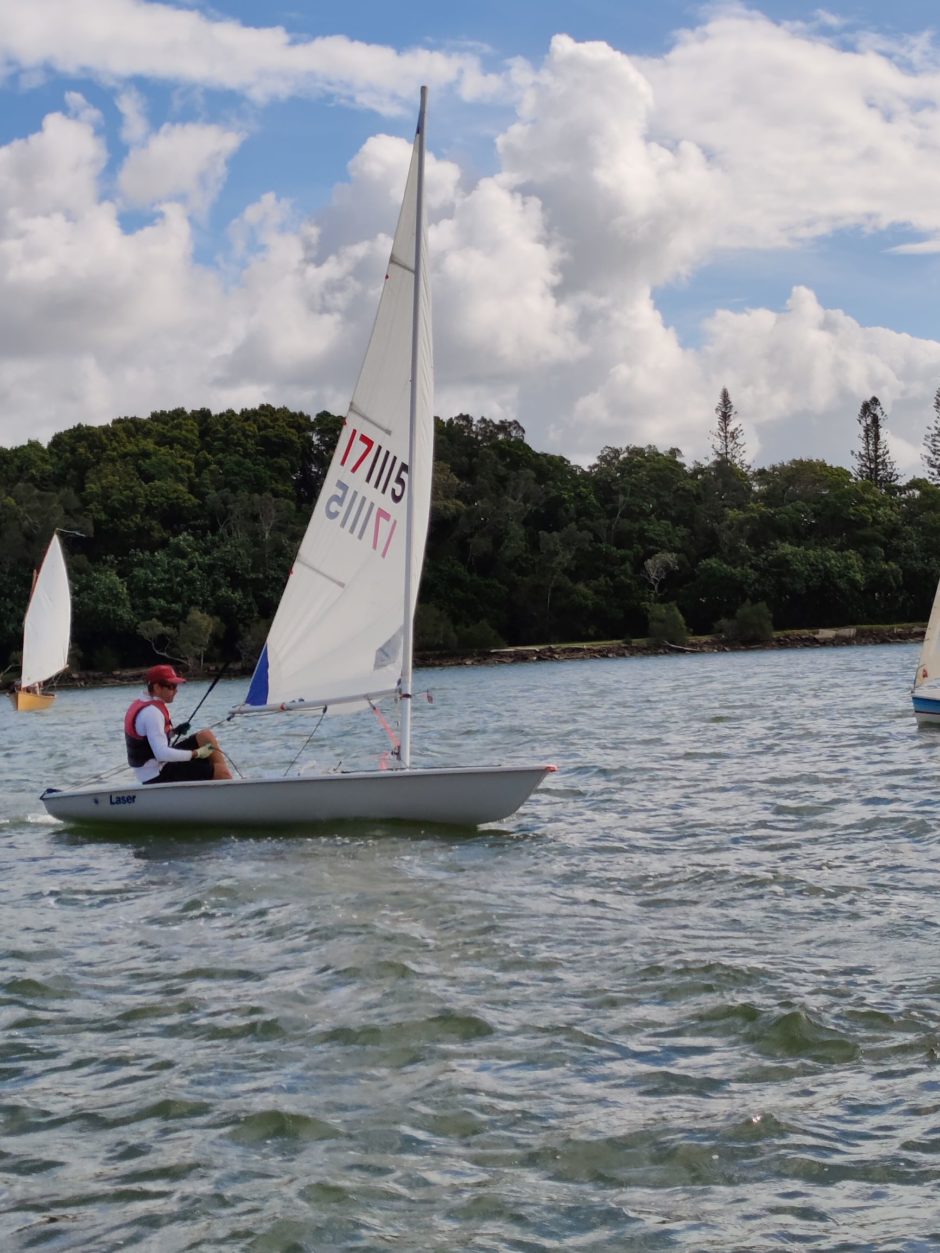 So many thanks to Suzanne, Doug, Paul and Kate for handling the time keeping, safety boat and results.
Juniors is on again this coming Sunday morning. (It is also Mothers Day!) See you all in two weeks for the next race day.