Race 6 of the winter series required a mixed group of boats, including corsairs, NS14s, Lasers, Pacers and a catamaran, to challenge the notion that sailing requires wind. A fitful breeze coupled with an adverse ebbing tide made even getting across the start line hard
work at times, with one intrepid sailor advising that they had downgraded their original goal of completing the race to a new goal of simply crossing the starting line.
Michael Grace and crew on Exhale managed to find some breeze and got off well in the pursuit start, but getting to the windward mark proved challenging for many of the fleet, with the mangrove region on the Northern bank becoming a Bermuda triangle for some.
Craig Foley on his new paper tiger catamaran, Soggy Frog, and Guy Forrester and crew on their corsair, Squirtle, proved to be the exceptions to the rule, with Soggy Frog first around the windward mark on lap 1 , closely followed by Squirtle. Adam Hurt and Kate Yeomans on Flight 24, also negotiated the conditions well, being the next boat to round the windward mark.
The current helped to pick up the pace on the downward leg with Squirtle overtaking Soggy Frog, before the lead changed again on the northern bank leg, followed by Flight 24. Flying Dragon, Dreadnought, No Sweat, Rolling Stone and Exhale made up the next group to round the green buoy.
The northern bank leg then provided some interesting sights with boats locked at 45 degree plus angles to the white marker buoy, as they attempted to compensate for little wind and an ebbing tide pushing them down river – two hulls must have helped here as Craig seemed to negotiate this leg better than most.
However, with the breeze dropping further during the second lap it became difficult for boats to get to the final mark. The race to the finish line then became a slow motion battle between Soggy Frog and Squirtle. Craig rounded the last mark first closely followed by Guy, before both became becalmed on the last leg. The water police then decided to join the contest by stopping their boat nearby, but it was hard to tell whether their wake was helping or hindering proceedings. With Squirtle closing in, Soggy Frog crossed the line first, with Squirtle second and Flight 24 coming through a few minutes later for third.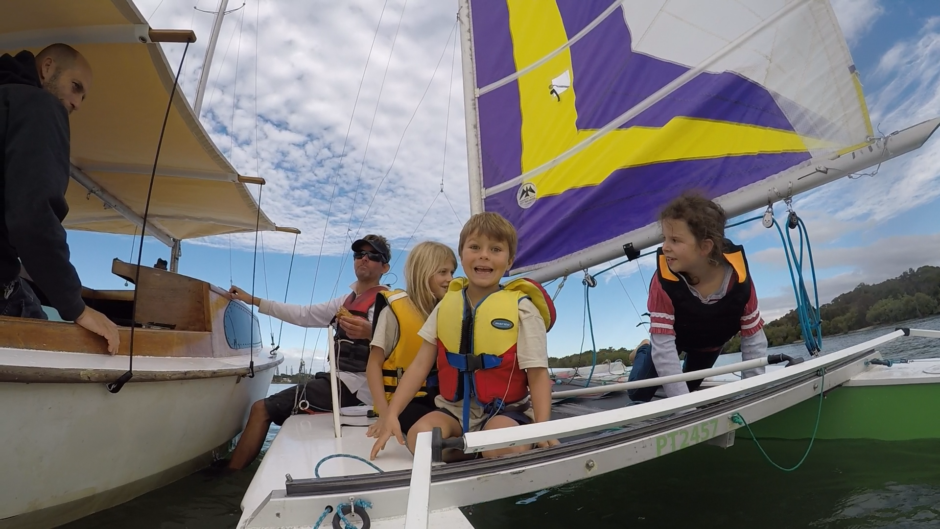 With Brennan increasingly busy on the safety boat helping becalmed boats back to the harbour it was decided to then stop the race. Congratulations to all who competed in difficult conditions. A special mention for Pancho for showing great perseverance and resolve in one of his first races.
Words by Peter Ross