Perfect sailing conditions delivered an enjoyable afternoon on the river for the first race of the Tweed Valley Sailing Clubs winter series on Sunday.
A group of spectators enjoyed the afternoon fr
om the official club tent on the river bank at Fingal and watched as a strong fleet of 18 boats and 36 crew lined up at the start, with all boats getting away quickly.
A steady Northeasterly breeze, opposed by an ebbing tide is a favorite condition for sailors on the river and a long course on the Fingal reach was completed by the first boat in 88 minutes with the last finisher home in 133 minutes.
16ft Corsairs were again the major class. 7 boats completed, with 21 crew, and most carrying spinnakers. Racing was very close throughout the fleet, but first to finish was "Swell Lady" 119'39" (Monique Smith, Matt Andrews & Rigby Andrews), only getting the lead on the last few tacks to the finish and beating "Minnow" 119'57" (Bill Fenelon, Tara Beth & Matt Collnan) by 15 seconds, after Minnow had lead the entire race. Completion between these two boats in the past four seasons has been intense, with most races coming down to seconds at the end.
Next in the Corsairs was "Melita 3" (Karen Vidler, Alison Blatcher & Marg Walgers) getting third place, 3 minutes back, after a well sailed race and without using a spinnaker.
Relegated to 4th place today after a jammed spinnaker refused to drop, was "Keen as", (Mark Reynolds, Craig Foley and Taj Krasna.) This team is improving every week and had a great race today, leading briefly before disaster struck. The "Keen as" boys are lining up for a win anytime soon.
All 7 Corsairs finished within 10 minutes, after a long race. This class has proved itself as an excellent racing boat for the Tweed River, and the clubs fleet has grown to 14 boats.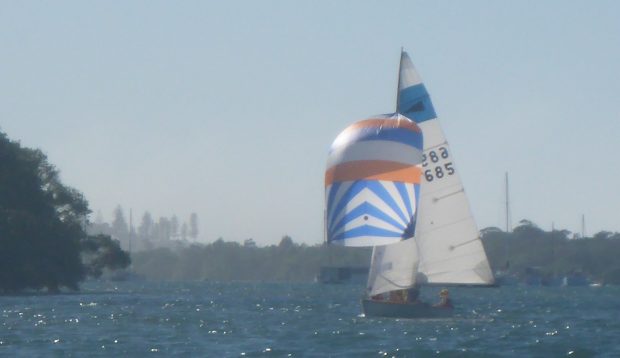 Also racing today were the single handed Olympic Class Laser fleet. 6 boats competed in a very tight formation and all boats finished within 3 minutes, and well ahead of the Corsairs.
It was an ideal day for the Laser class and the bunch of 6 quickly cleared away from the Corsair fleet and were never to be seen again until the BBQ.
First to finish was Peter Fell, 110'21", a safe 50 seconds ahead of second place Maurie Meyer 11'15", and third Gary McCrohan 112'15'. And 9 minutes ahead of the first Corsair.
The clubs fleet of Lasers is also growing and competition is of a very high standard.
Only 2 boats competed in the 2 handed 14ft class, fastest was Taser "Hippocampus" (Mike Mansted & Kynan Luescher), and a new boat with the club, MG 14 "On & Off" (David and Hugh Robinson)
Fastest time today, 88'00", went to a visitor from Southport YC, a "Mosquito" catamaran, sailed solo by Brett Kelly. Brett recovered from a bad start and slowly chased down race leader Hobie 16 "Sledder" (Dave Chester and Isaac Poulsen), getting in front on the last lap and winning by 50 seconds. Both these multihulls completed the course 20 minutes ahead of the first Mono hull.
A very big "thank you" goes out to the team who support us on the water and make sailing possible. Our 2 rescue boat teams today, Robert Ormsby, Adrian Colnan, Tim Andrews, and Tully Andrews. And our official team, Timekeepers and start flags, Suzanne Blatcher, Val Skinner and Barrie Callanan.
The Clubs next race will be at Fingal Head on Sunday the 3rd of June. Briefing at 12:00 Start at 1pm.