15 boats carrying 34 crew turned up to race on Sunday but after viewing the cold and rough conditions on the river, some boats were to remain dry on their trailers, as the clubs Lasers "Great Grand Masters" (over 65 YO's) elected to stay dry and watch from the spectator's tent.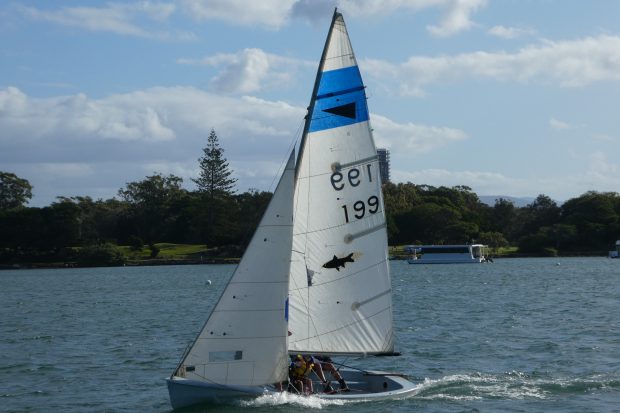 Gusty and difficult conditions, with a strong ebbing tide combining with a 25 knot Southerly made for a challenging afternoon sailing on the Tweed River, with only half the fleet completing the course. Many boats capsized and the water was cold.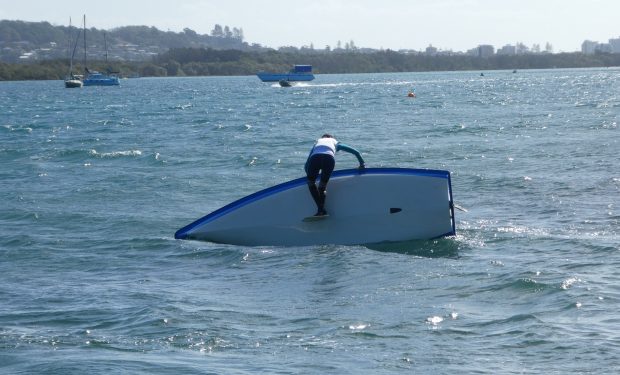 12 boats started the race and only 6 boats finished, as the challenging conditions wore the fleet down.
Perennial winner, Dave "Chest bond" Chester, on his Hobie 16, and sailing new crew, Sid Willis, got back in his usual position in the front of the fleet, lapping everybody and getting home 24 minutes ahead of the first mono hull. Dave likes to be in front!!! and measures his success by how many boats he can lap, and so was very happy with today's performance.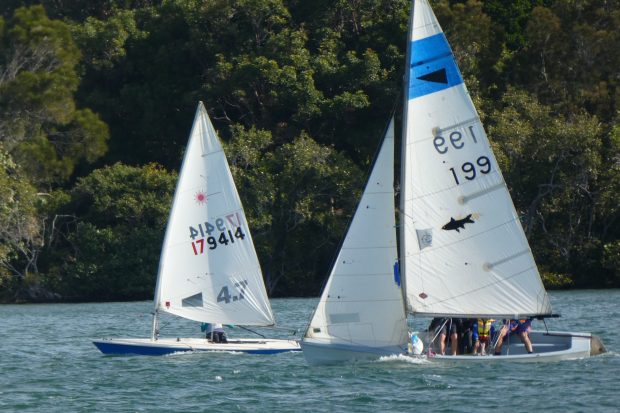 Back in the real race, (the monohull fleet) first to finish was single-handed Laser "Black Duck", sailed by Grand Master (or rather, Mistress!) Kate Yeoman, getting the gun from 2nd placed monohull, Corsair "Minnow" by 20 seconds. It was a typical tenacious effort for Kate who once worked in the NT as a crocodile wrangler. Kate never gives up and came from behind to take the lead in the final lap as the two leading monohulls crossed tacks and change positions several times in a battle to the finish. No more than 30 seconds separated these two boats the entire race.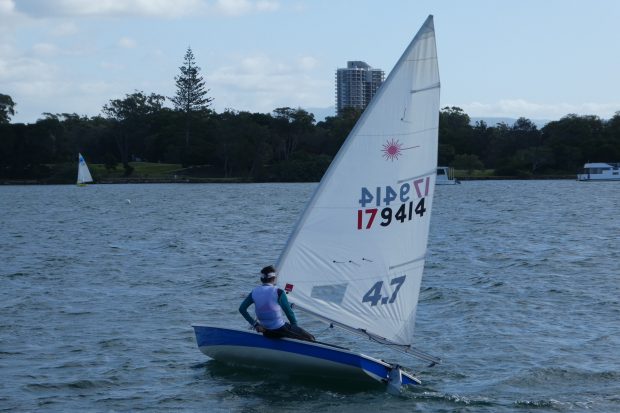 Again, the Corsairs were the dominating Class with 6 of these Classic Aussie 16ft three handed boats competing and all setting spinnakers. It was a good day for the crew on "Minnow" (Bill Fenelon, Kynan Luescher, Miles Browne and Scott Jones). Always a front runner in the stronger breezes, and this week sailing with 4 crew, lead the entire fleet for the first two laps and won the Corsair class.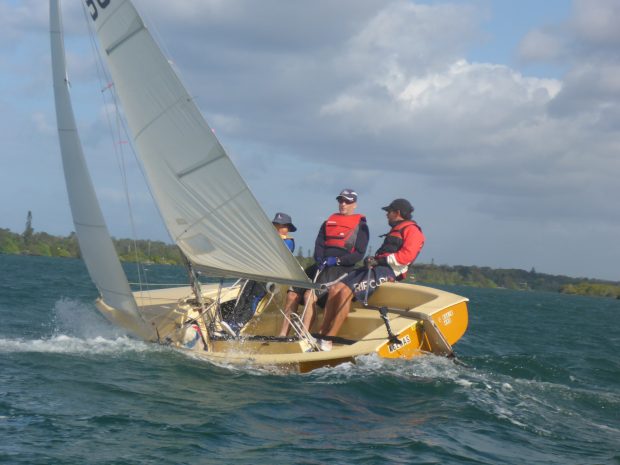 3rd boat to finish and second Corsair was "Keenas" (Craig Foley, Mark Reynolds and Taj Krasna.) The Keenas boys were always in the hunt and are definitely the major improvers in the Corsairs. Eventually finishing 3 minutes behind Minnow after a brief disaster when Mark went for a quick swim.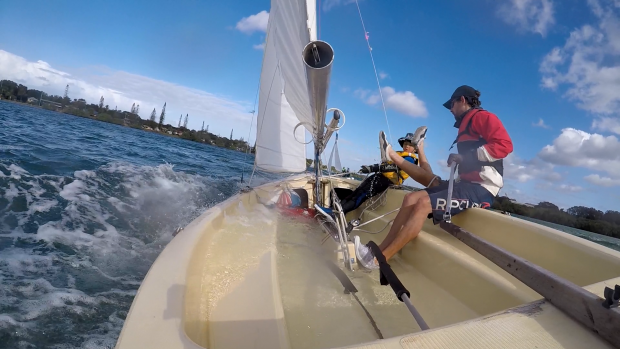 Next to get home and in an unfamiliar position 7 minutes back, was Club Champion Corsair "Swell Lady" Monique Smith, Matt Andrews and Deb Flannery), after also suffering a minor disaster, dropping their spinnaker into the water (which is like a giant and very effective sea anchor and caused an explosion of loud sailor talk on the boat!!!). Until this mishap, it was business as usual on Swell Lady and they fought a very close battle for the lead with Minnow. They never recovered their position following this disaster but did manage to sail on and finish after completely re rigging their spinnaker while sailing up the beat to windward.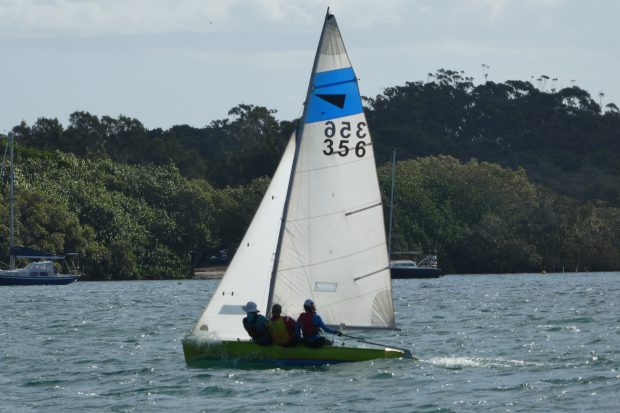 Another Corsair has joined our fleet, sailed by Peter Ross, Mark Storrier & Roger Clark, making a total of 15 of these boats registered to race with the club.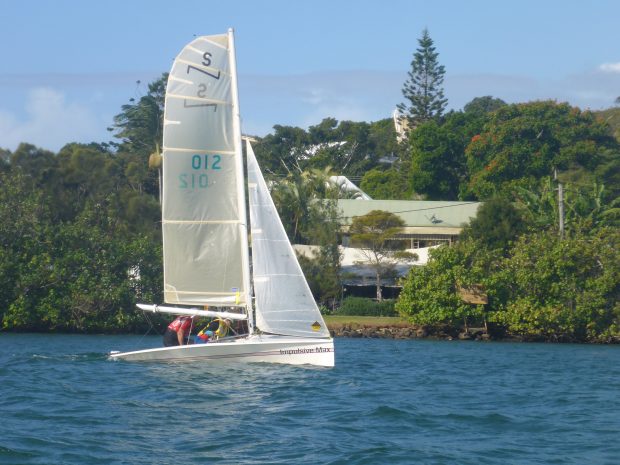 Three boats competed in the two handed 14ft class, which featured a new Club owned boat, NS14 "Impulsive Max" kindly donated by the South Brisbane Sailing Club. This boat sailed its first race with the club, crewed by Robert Preston and Racheal O'Hagan. It was hard work in the 14ft division with many capsizes. Impulsive Max was first home in this class and followed by another club NS14 Blu Tack sailed by Andrew Jaggers and Matt Colnan.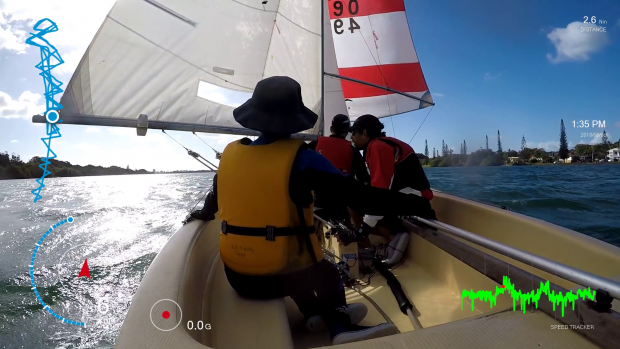 Juniors sailing is growing strongly on the Tweed with large group coming down each weekend and learning the skills. Juniors sail in the morning on small boats, then double up as crew on the racing boats in the afternoons.
Many thanks to our shore-based support team that make racing possible. Suzanne Blatcher (Head Time Keeper) assisted by Barry Callanan and Sandy Williams, and our rescue boat team, skipper Bryan Townsend and crew Adrian Colnan.
Next Race on the Fingal Reach will be on the 24th of June.
New sailors are always welcome and experienced is not required to crew.
Rescue boat drivers and crew are needed, you need a NSW Boating licence, or crew in the rescue boat and log your time towards a licence.
For any enquiries, please phone Bill Fenelon on 0411 123 405.