Last Saturday night the Tweed Valley Sailing Cub (TVSC) celebrated its 7th season of sailing on the Tweed River, with its Annual Trophy Presentation Dinner.
80 members, and friends, including 18 junior sailors, enjoyed the evening hosted by the Kingcliff Beach Bowls Club, who have supported the TVSC now for the second year.
The TVSC's top award, the "Summer Point Score Trophy", includes every class of sailing boat, in a 10 race handicap series throughout summer, usually conducted fortnightly.
A total of 87 people participated in racing this summer in a fleet of 34 boats.
This year's top award was won by Kate Yeomans, sailing an Olympic Class Laser. This was Kates 2nd season in the Laser and her performances have been improving markedly each race. With a helpful group of Laser "Great Grand Masters" to point her in the right direction, combined with a tenacious will to win and never give up, Kate sailed extremely well and is a deserving winner of the club's top trophy. Second in the point score was Laser Sailor, Gary McCrohan, and third was shared by Alison Blatcher and Junior sailor, Taj Krasna.
TVSC concurrently conduct three "One Design" Class Championship Series over summer, which are scratch races. (No Handicapping) and a Multihull division based on boat yardsticks. There are 5 races is these series', one race per month.
The Clubs biggest one design Class fleet, the Australian 16ft. 3 handed "Corsair" Class, included 15 boats with 45 crew sailing. Most of these boats use spinnakers and racing is very close and hard fought. The series wasn't decided till the final windward leg of the last race.
Winning the Corsair Class Championship this year was Team "Odin" Corsair 388 (Daniel Sieders, Adrian Dokter and Tamara Sheppard), 2nd was "Swell Lady" (Monique Smith, Matt Andrews and Deb Flannery) and 3rd was "Minnow", (Bill Fenelon, Jessie Normand and Max Hennessey) 4th was "Keenas", joint 5th place went to "Melita 3" and "Epic".
Division 2, 14ft 2 handed division, for NS14, Tasers and MG14's was contested by 7 boats and 14 crew. Winning this division in NS14 Tornado was Bill Fenelon & Taj Krasna, 2nd NS14 Radical Phase, (Glen Slight & Kynan Luescher) and 3rd place was NS14 Zarzan (Adam Hurt & Tom Busbridge) 4th place went to Tasar "Hippocampus" and 5th place was Blu Tack.
Division 3 Single Handers, Olympic Class Lasers, 1st place for the 3rd year in a row, Laser "Great Grand Master", Gary McCrohan. Next placed Laser, coming second with a fantastic result, Kate Yeomans, and third was another "Great Grand Master", John Heywood.
Division 4 Multihulls Yardstick based point score was won again by TVSC Vice Commode, Dave Chester, with crew Isaac Poulsen, in a Hobie 16. Dave usually finishes miles in front of the mono hull fleet and tries to see how many he can lap!!! 2nd in the Multihulls was Weta "Scored a Try" (John and Saffron Cook) and 3rd was Mari Cat "Osprey" (Glenn Slight)
Juniors sailing is alive and strong on the Tweed River.
17 Junior sailors attended the presentation. Juniors have their own sailing in the morning and then join the crews in the afternoon races. Juniors points are earned the same as the adults. By winning races, and this years "top gun" Junior sailor (Taj Krasna) won third place in the summer point score.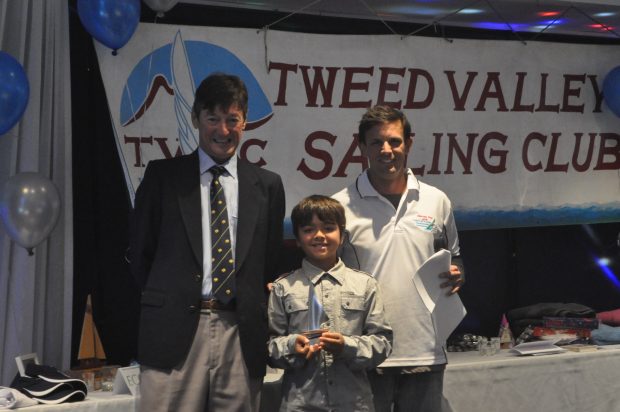 Winter sailing is now underway, with 2 races already completed and race three to be conducted this weekend at Fingal Head.
Spectators are very welcome at sailing events, to join in at the spectator's tent at Fingal head, or to enjoy anywhere on the grassy foreshore of the Fingal Reach.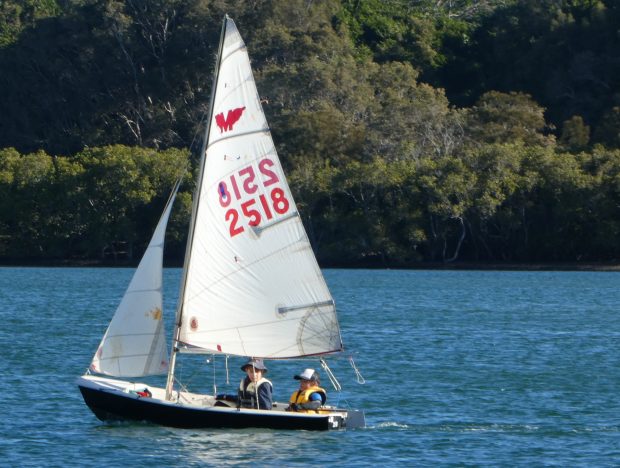 Volunteers are always welcome and appreciated. Support teams help with rescue boats and time keeping. New sailors and experienced sailors are always very welcome.
If you would like to volunteer as support crew, please phone Bill Fenelon (TVSC Commodore) 0411 123 405