11 boats sailed with the Tweed Valley Sailing Club, on Sunday, as the club conducted Race 10 of its Summer Series.
It was a very pleasant afternoon on the river with a falling tide and North Easterly breeze, sailing was easy and fast. The racing was very close, and many boats used spinnakers.
Fastest today was Kate Yeomans; Laser "Bluey"; Kate dominated today, in what's becoming a regular pattern, she excelled in the conditions, leaving 2nd place 3 minutes behind.
Second finisher was Laser "Silent Partner" "(John Heywood) and 3rd, Laser, Siesta (Gary McCrohan).
The premier event today was the 2nd Heat of the Northern Rivers Corsair Class Championship.
6 crews contested heat 2, the teams being slightly mixed this week; "gun" sheet hand Matt Andrews, joining "Team Blatcher" on Alisons hot new boat "Fairlight". Matt seems to gravitate towards the fastest boat so this could be a sign for Alison, trialing her new boat today for the first time.
Current North Coast Champion, Swell Lady sailed with an all-female crew this week, and were definitely out to stun. And did !
Meanwhile on "Keena as" Mark had his regular crew, Craig Foley as sheet hand, & Marg Walgers up front, these guys were meaning business and would to be very hard to beat.
Getting top points today in the Corsairs was "Keenas" (Mark Reynolds, Craig Foley and Marg Walgers). This win puts Keenas in first place after two races, for the Corsair Class Championship.
Although Keenas got away very quickly from the start and built a strong early lead, they had to fight for it, with second placed "Fairlight" (Blatcher, Andrews & Bernet) only a minute back and closing with a determined effort.
The next 3 Corsairs finished within 30 seconds after a very close race, 3rd went to "Nimbis", 4th "Swell Lady, and 5th Epic.
Last to finish in Melita 3 was commodore Bill Fenelon, destroying any chance in this year's championship, came in 20 minutes behind the first finisher. Obviously enjoying the view from a sailing dinghy.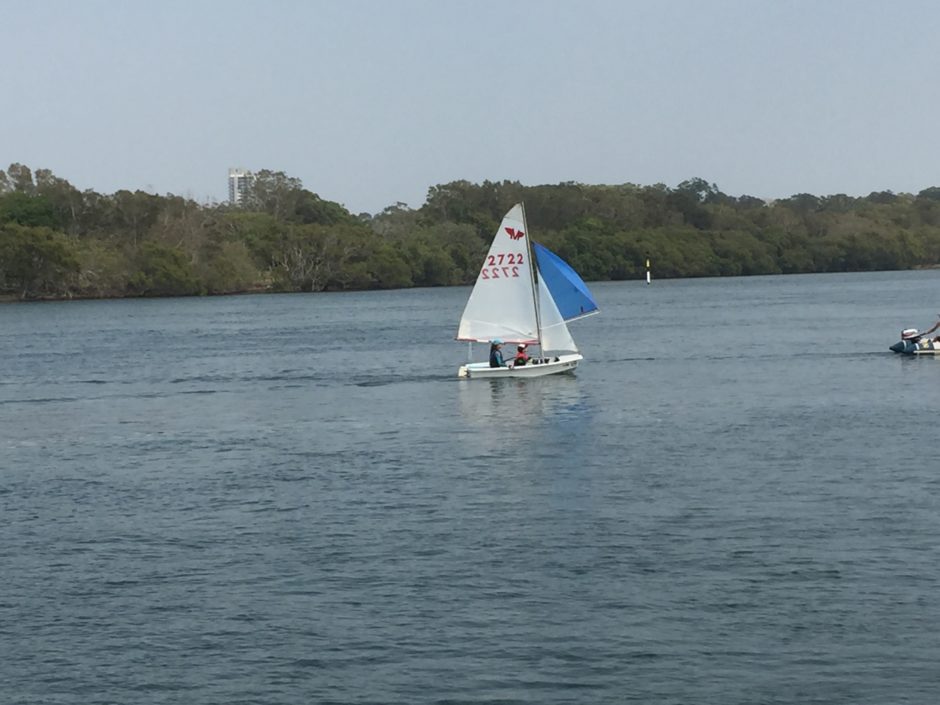 Juniors sailing is becoming established on the tweed, and this afternoon we had 3 junior crews racing their own boats. These sailors are becoming skilled at the sport and are now using spinnaker's
The club is supporting a Juniors team at the "Manly Junior" National Championships this summer. We also have several good racing Manly Juniors available to interested junior sailors.
There will be no organized sailing at Fingal next Sunday, as the club heads south to visit "Big River Sailing Club" at Harwood, to enjoy 2 days sailing on the Clarence.
Our next event in Fingal Head will be on Sunday the 1st of December.