Last weekend 5 boats and 9 sailors from the Tweed travelled to Ballina for Richmond River SC's Annual Regatta and the celebration of the 50th year of their club house. Andy Lamont and Craig Foley tried their luck on a Tasar for the first time – they may not have won any prizes but plenty of fun was had and at least they completed the course. Also attending, all defeated by the tricky conditions, were Gary-Macca-McCrohon on Laser Siesta, Corsair Melita III skippered by Alison Blatcher with Courtney Tiller & Sebastian; Andrew-Chillingman of Chillingham-Jaggers and Bronwyn sailed a Pacer, also for the first time.
TVSC's Kate Yeomans on Laser Bluey showed her stamina in completing a course that many of the other sailors faltered on and took first place overall – showing her skill at holding the boat flat at top speed even in 20 knot gusts. Thanks to RRSRC members for an excellent day – followed by tall sailing tails on the club balcony watching the sunset with live music from local band Broadfoot.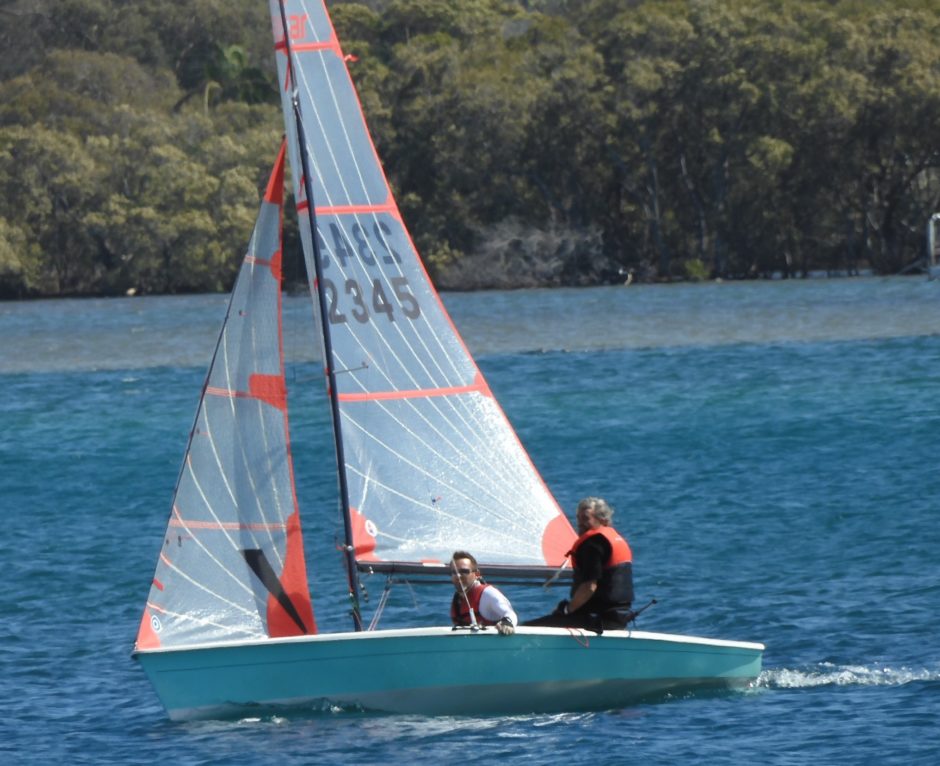 The next day, back in Fingal Head, was the second heat of the popular Sprint Series – short back to back races honing everyone's start-line skills. All were relieved that the wind had eased off (no one wanted another 30 knot race) and 13 Boats with 24 crew competed on the tight course.
Congratulations to NS14 Impulsive Matt skipper Matt Andrews and Igor Prado from Ocean Shores who took out first place on scratch in all 4 races. Adam Hurt and Tom Busbridge on NS14 Flight XXIV from Fingal Head almost had them in race 3 – only 3 seconds behind – four 2nd places for them. Gary McCrohon (Tyalgum) was first in the Lasers for 3 of the 4 races with John Hayward (Fingal) taking a hard fought 1st in the 2nd race.
Four boats competed in the Corsair class with Scott, Debbie and Sahara Jones coming first on Corsair Nimbus for 3 of the 4 with Peter Skinner never far behind on Epic with crew Doug Haig and Gail Bernet. Gail has recently taken up sailing at age 70+. She keeps coming back even after the wild rides and capsizes of the last few weeks.
Our very much appreciated support team, safety boat driver Reg Court, Lex Branch and timekeeper Suzanne Blatcher enjoyed the day too. Suzanne has been the club's regular timekeeper for the last few year – at age 86 she enjoys being involved with the club but can't be tempted onto the water any more.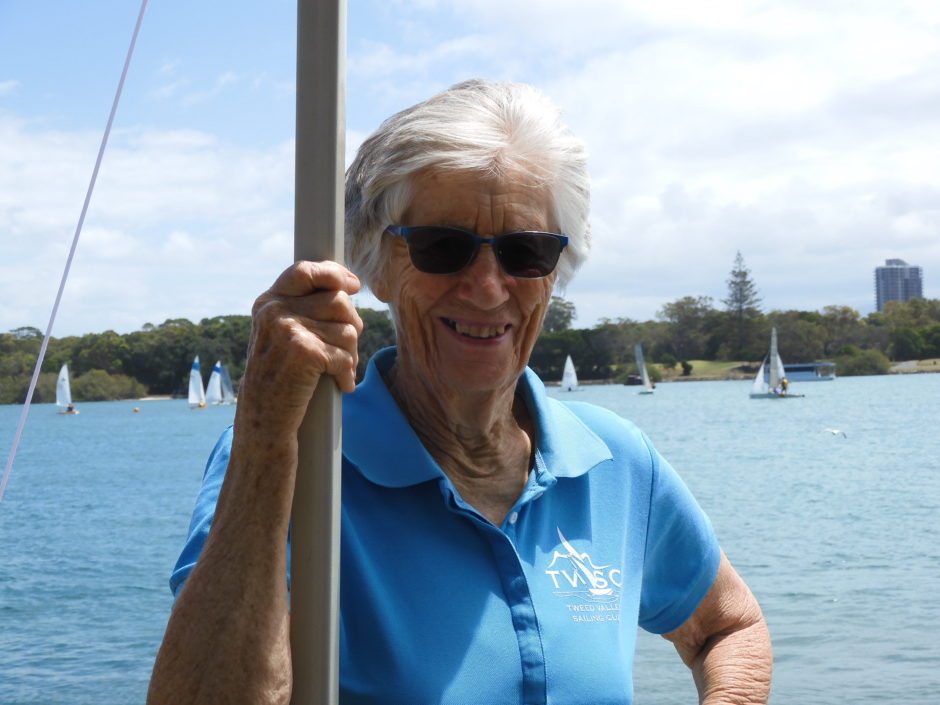 Apologies to all for the recent lack of sailing news especially our avid sailing report readers Noel and Christine Fenelon. We look forward to having our usual reporter back from sea and hard at work on the keyboard in a couple of weeks. Want to sail with us or join the support team? Contact tvscmail@gmail.com Next race at Fingal Sunday 10 Nov 10am.