Our Sunday racing was split between Queensland boat meeting at Lake Orr in Varsity and the NSW Boats staying at Fingal. As a result, we're lucky enough to have two write up's from Sunday. The NSW team do need to work on their photos, though, as none were supplied!
NSW Report
With the Queensland members of the club deciding that caution was the better part of valour and choosing to stay north of the border, a reduced fleet gathered at Tweed Valley sailing club on Sunday the 23rd of July.  Twelve boats and crew from the southern side of the border sailed a race from the clubhouse (clubhouse???) at Fingal head to a mark just shy of the Chinderah pub and back again.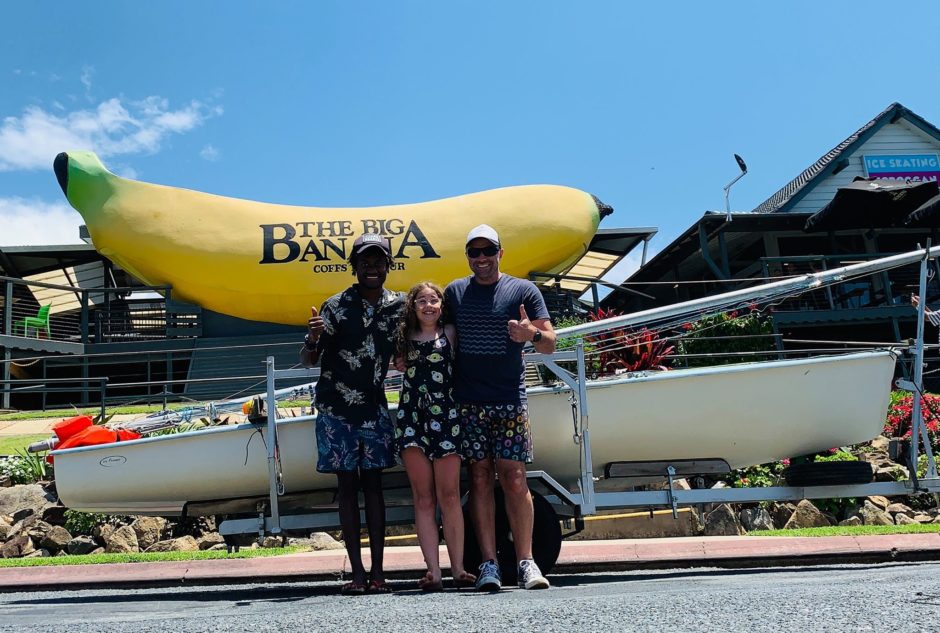 A beach start meant a very tight pack left the Harbour together. The winter westerlies and a run-out tide quickly spread the fleet as only two boats managed to get through a big hole in the breeze adjacent to the wharf at the golf club. John Haywood, Gail Bernet and Deb Beard in Capers squeezed through the hole first, closely followed by Matt Andrews and Kat Barwick in Paper Plane while the rest of the fleet was left wondering what they had done wrong.
Paper Plane and Capers engaged in some close racing as they approached the M1 bridge. While holding a close eye on their competition, the crew of Paper Plane tried to see what would happen if they hit a red channel marker in a small timber boat. The water Police then decided to see how close they could get to a Corsair without ramming it. We don't know what "Old man of the sea" John Haywood said to them, but the cops certainly left in a hurry.
The rest of the fleet turned for home with the leaders, and together the fleet raced in a tight pack again. The three lasers with Karen, Kynan and Doug all had a go at leading, and the Corsair "Nimbus" with spinnaker flying also challenged for the lead. But it was a day for the thinking sailor, and John and his crew again made their way to the front just in time to sail into the harbour for a deserved win with Paper Plane second and Karen in her Laser coming in for a very close third place.
It wasn't the same without the QLDers, and we sincerely hope they will be able to join us for more winter racing in two weeks.
Stay well and sail well.
Matt Andrews
Queensland Report
TVSC members living north of the border met up at Lake Orr for some informal racing in shifty westerlies.
There were 6 boats – three classic Corsairs, Igor on his Hobie 14, Andy with his Laser and a newcomer, Alfie, with a Spiral. There were also 6 vans – Andy's very black Mercedes, Jason's very big Renault, Igors very little Caddy, Craig's lost in Transit and 2 wise women going with trusty Toyotas… and Mark still drives a Camry!?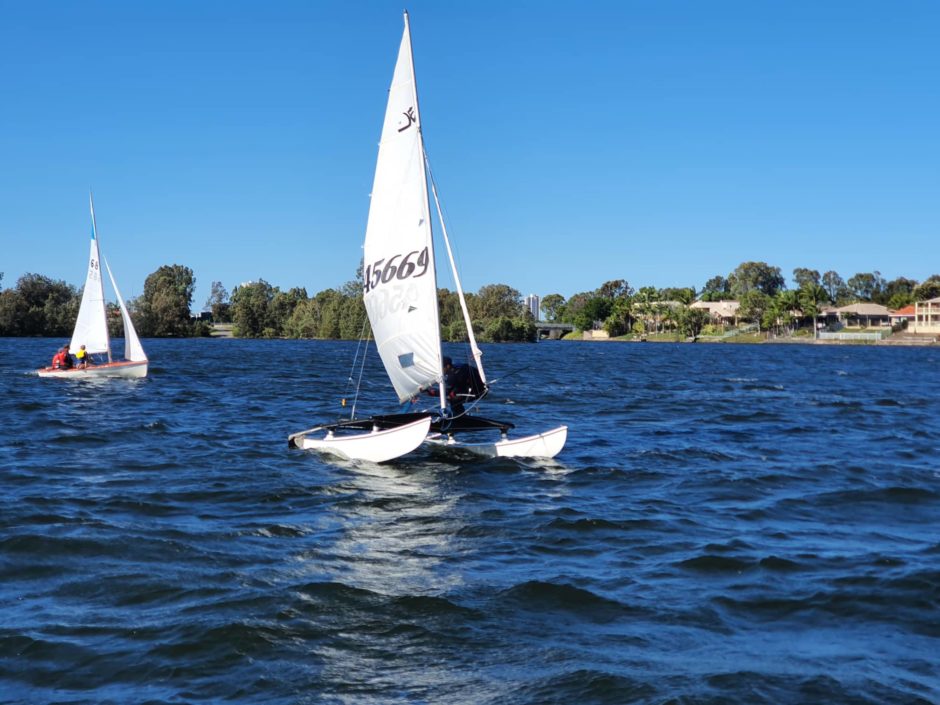 Jason had Dasha crewing again on Epic and newcomer Kanisha Bruce. Great to see Debbie Jones back on the water crewing with Mark on Keenas and also Byron sporting a new pair of wetsuit pants and opting for a more conventional boat entry technique this week. I left my Laser at home and still managed to be late but in time to jump on Corsair Gidget with Craig and Kate Ausburn. It was rather confusing but we settled on Kate 1 and Kate 2, Kate 1 being the one closest to the bow as we changed positions a few times just because you can in a Corsair.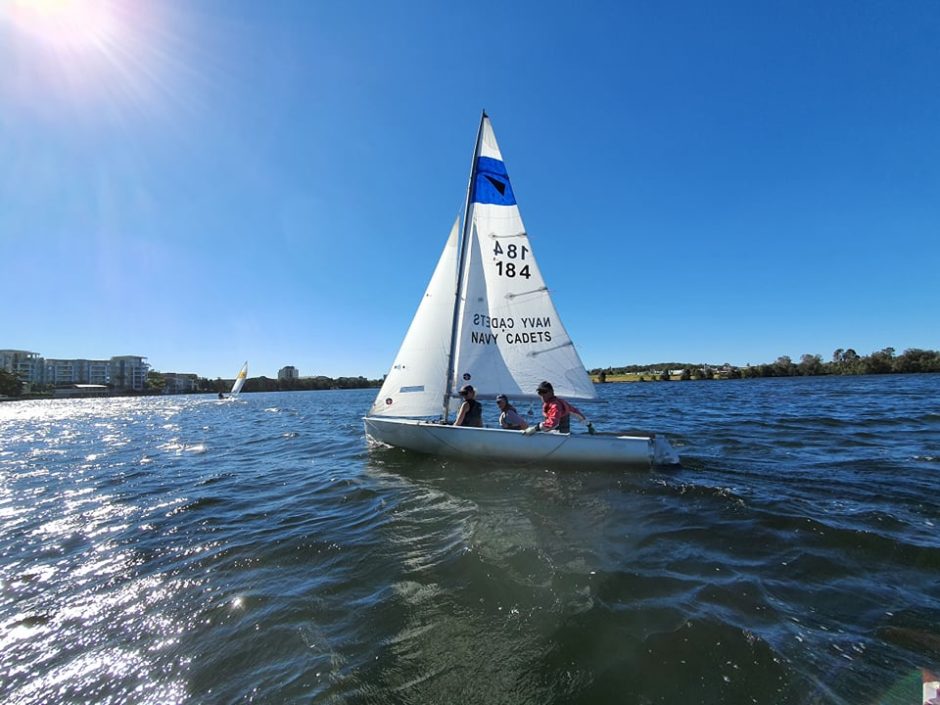 Zac and his son Finn kindly turned up with a tinny to be our start boat. The big challenge was deciding which buoys to use. The lake has lots of them in long lines, mostly orange but the odd white one is thrown in. They are used by folk that choose to sit facing backwards in their boats, obviously, so they don't hit each other. A very wise decision was made to go port around the furthest buoy and return to keep it simple.
Relaying the course whilst on the water was also challenging in the blustery conditions. It wasn't hard to spot the start boat as it was the only tinny on the lake although they were using fishing rods instead of flags. Andy was braving the conditions in the full rig but headed back to the beach just before the start with a sore back, later mentioning a Radial might be a good rig choice in those conditions.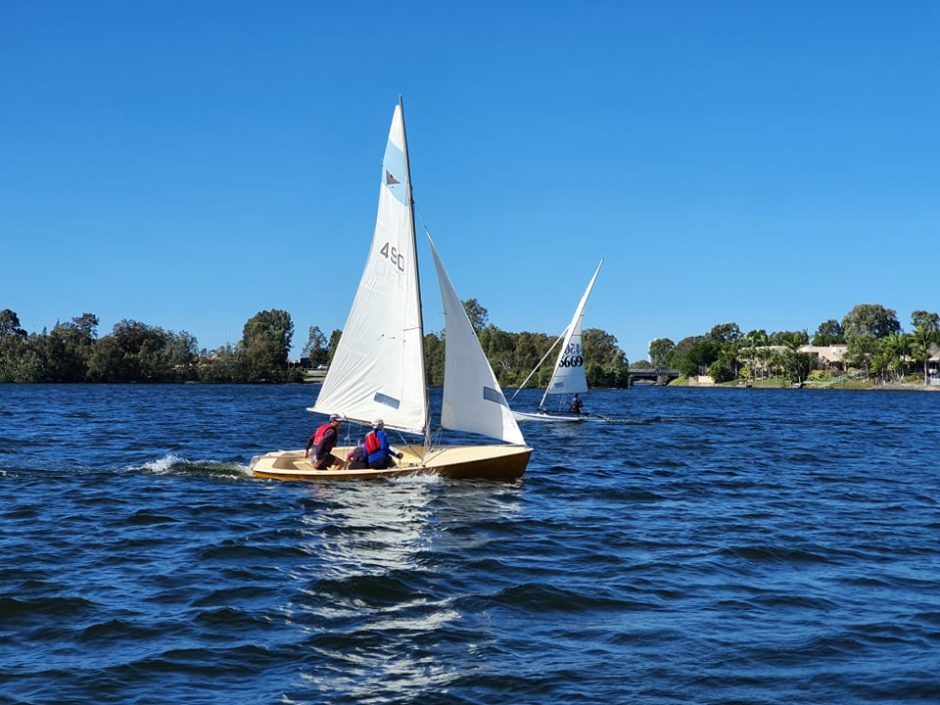 The 3-minute call was shouted out and missed by most of the fleet but then Zac's impersonation of a hooter left no doubt that the race had started although the fishing rods didn't come down.
I don't remember much of the race after that as Craig was giving lots of helpful instructions to Kate 1 and Kate 2 and I was getting very confused. I did know the question "What are you doing down there??" while we were going upwind in a decent breeze was clearly for me sitting in the bottom of the boat but I didn't really have an answer for it. It was good sailing and we all got up and around the last buoy and back to the line although the tinny was gone, perhaps in search of a better fishing spot.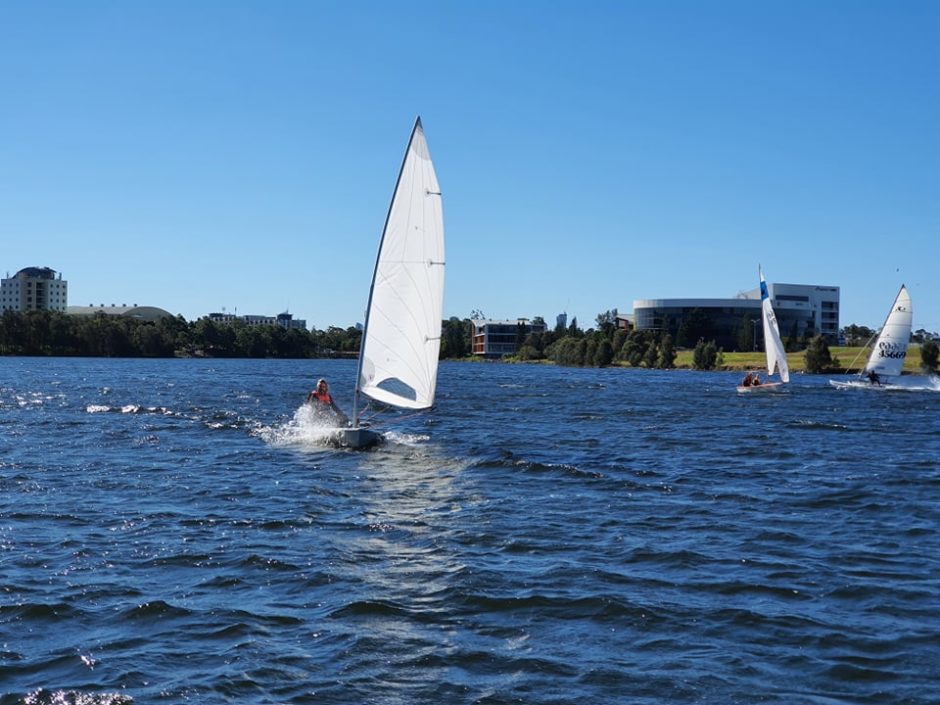 We did a couple more races with one boat electing to park on the rocks for a rest, an Epic feat really, and some fast reaching legs too before calling it a day. It was a good training session and no one went swimming.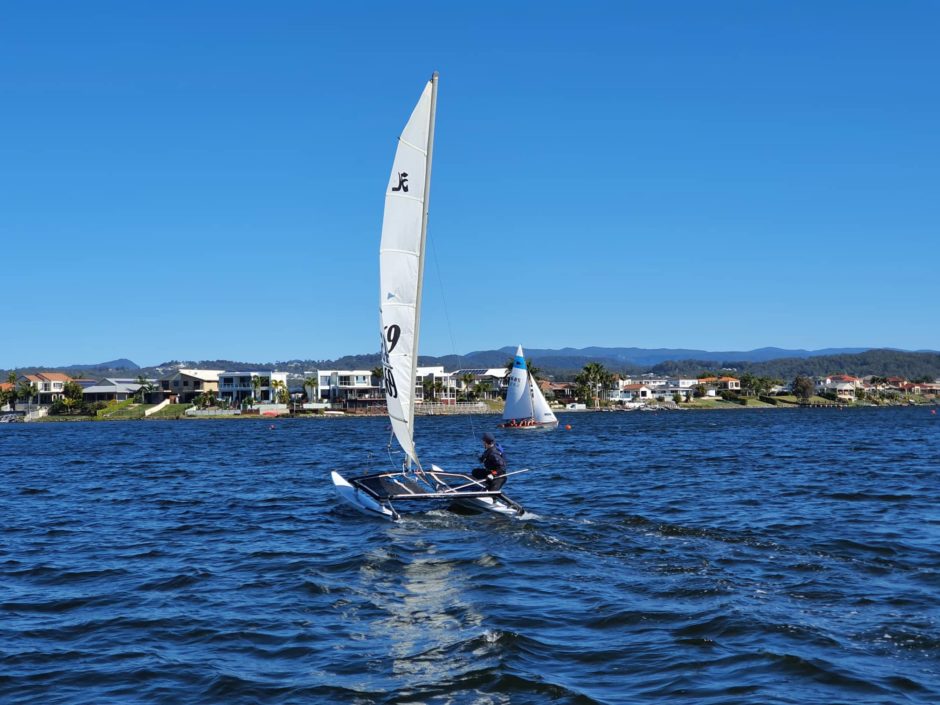 Drinkies entertainment was a singalong with Craig playing his new keyboard, raising the bar for the next Harwood regatta.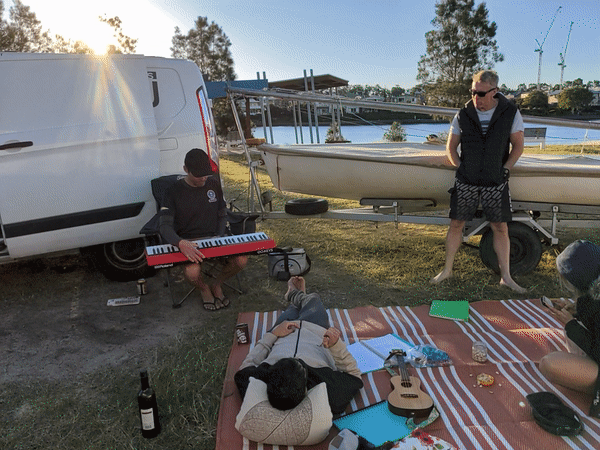 Kate1..or 2😊